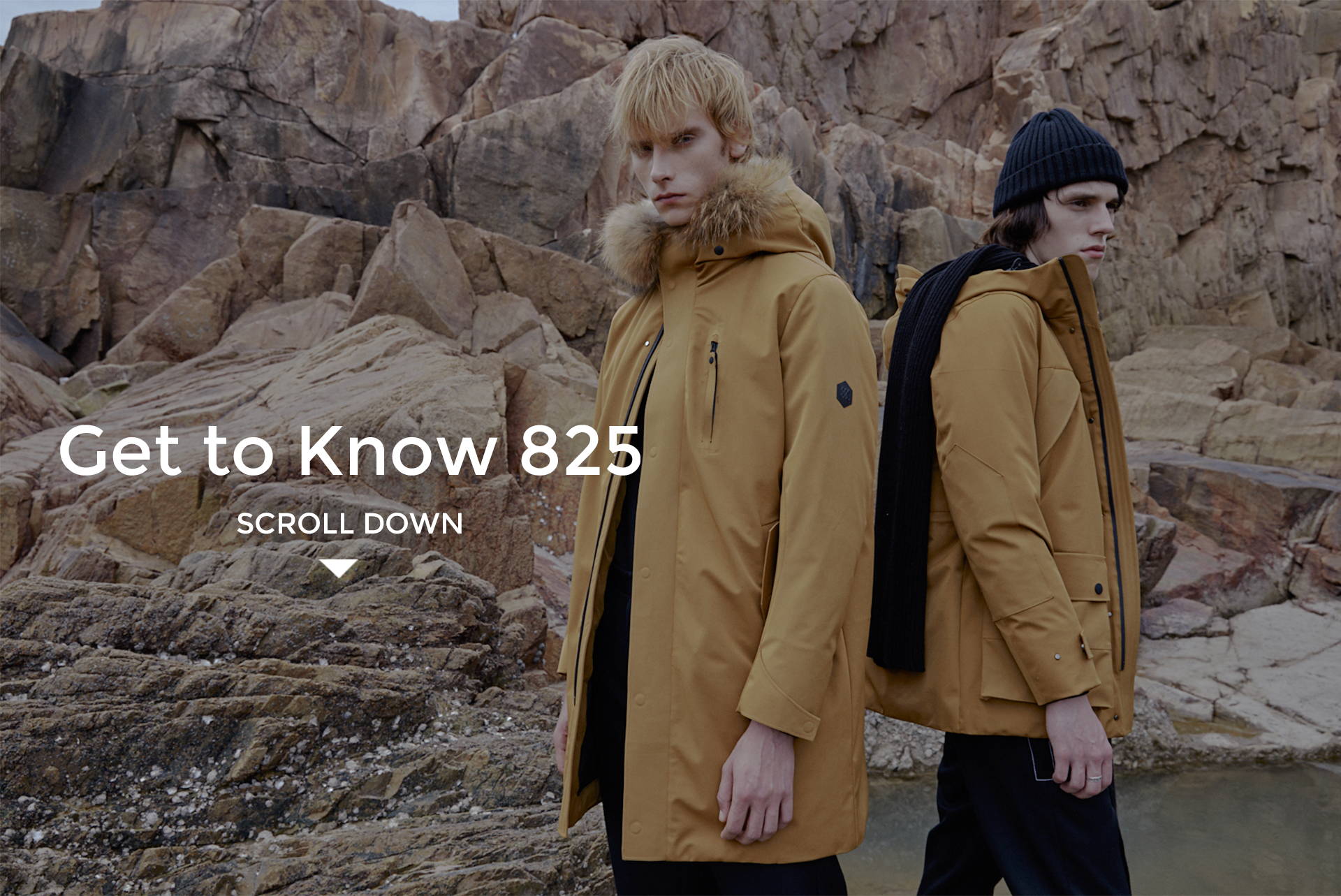 A professional team with over 20 years experience in down product development.
We are dedicated in helping human beings to enjoy extreme weather with our warm hearted products.

According to scientific research, 25 degrees is the best comfortable temperature for the human body and the standard for automatic physiological adjustment of the human body. Knowing this demand, 825 implements this scientific concept in the development of the whole brand, and strives to make customers feel the extremely comfortable experience when wearing 825 through apparel fabrics and product technology.
UNLIMITED creativity to develop fashion and comfort garment products for human beings.
A consumers quotes on 825 products: "My favorite place is inside your hug"
We do not inherit the Earth from our ancestors and we borrow it from our children.
To educate consumers the true meaning of a valuable product.
Waterproof and breathable fabric is a new type of textile fabric. Its composition is composed of polymer waterproof and breathable material (PTFE membrane) and fabric. According to different product requirements, two-layer and three-layer composites are used. Its main functions are: waterproof, moisture-permeable, breathable, insulating, windproof, and warm. The moisture permeability is 16000g per square meter per 24 hours, the waterproof pressure can reach 8000-20000mm water column, and the insulation can reach up to 100,000 volts. The fabric can maintain its best efficacy in harsh environments and can adapt to temperatures from 427 degrees to minus 200 degrees. In terms of production process, the technical requirements of waterproof and breathable fabrics are much higher than that of ordinary waterproof fabrics; at the same time, from the perspective of quality, waterproof and breathable fabrics also have functional characteristics that other waterproof fabrics do not have. The waterproof and breathable fabric enhances the air-tightness and water-tightness of the fabric, and its unique steam permeability performance can quickly discharge the water vapor inside the structure, avoid the growth of mold in the structure, and keep the human body always dry. It perfectly solves the problems of ventilation and windproof, waterproof The problem of keeping warm is a new type of healthy and environmentally friendly fabric.
The second generation products we use are waterproof and windproof and maintain good breathability. However, ready-made garments made from this kind of fabric are prone to seepage in the seams or zippers. To ensure that the garment is completely waterproof, we press glue on all the seams of some styles to ensure that it is waterproof and windproof.
"We aspire to become a global expert on down, with innovative technology, adapt to the changing lifestyle, meet the same consumer aspirations. " - Denis Shao
825 will create a blend of contemporary aesthetics and technology in the garment, reflecting the infinity creativity, infinity warmth of down experience. Hope we can expand this down fashion trend to the whole world.